Wood Flooring
Wood flooring adds warmth and beauty as well as defines the style and ambience of any home. It's easy to care for and clean and can last through many generations of use. More important it's hypo-allergenic and environmentally sound. Wood flooring is considered to be one of most cost-effective materials. No matter what your budget is, it can easily fit your needs.
Taking into consideration colour, texture and performance of wood can lead you to the proper choice. There are several species of wood floor that you can choose from such us Oak, Iroko, Doussie, Teak, Merbau, Maple, Wenge, Walnut, Bamboo, Acacia, Ash, Pine, Kempas etc.
There are two types of flooring: internal and external use. Decking flooring is an elegant solution for outdoor surfaces (external), making them comfortable and aesthetically appreciable. Frequent decking flooring can be Bangkirai, Teak, Iroko, Massaranduba, Ipe, Jatoba, WPC decking etc

Solid parquet, engineered and laminate are types of wood flooring commonly used for internal applications.

Engineered flooring is real wood. It is a sandwich of 1/16" to 1/8" of finish wood on top and non-finish plywood or soft wood underneath. So, what we're looking at is 100% genuine wood prefinished-already oiled/varnished. It is easy to install and quicker to enjoy because there's no waiting for the sanding to be done and for the coats of finishing to dry. Moreover, provides better value in the long-run because it can be sanded again to revive the wood grain and erase scratches (1 or 2 times depending on the thickness of the finish layer).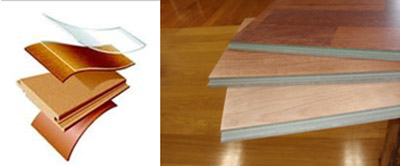 Laminate flooring is a multi-layer synthetic flooring product. It is an ultra-durable product that looks like a real wood. Yet is less costly, easier to install and can last a lot longer.
Solid wood brings the natural elegance of forests into a home. Beauty and endurance can be indentifying for generation to come. Solid wood flooring is a warm, attractive and sturdy form of floor that offers householders a durable, reliable and impressive base to their interiors. The striking appearance is matched by a long-life expectation which, with the right maintenance, will see the floor provide many years of excellent quality service. All the above mention wood species flooring are available from our company. Solid Oak wood flooring is offered by our company both pre-finished (varnished, oiled, hand-scraped, brushed) and unfinished in various dimensions (70mm up to 200mm width) and qualities (SELECT, NATURE, RUSTIC etc).
Qualities: